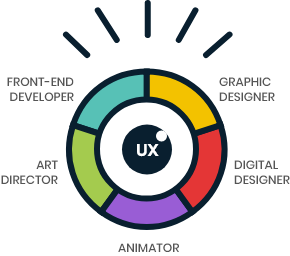 I design

and sometimes <code>

elegant and engaging digital products

that

deliver on brand.
Hola! I'm Sandra, a designer focused on UX/UI, visual design, and branding. I believe in creativity, simplicity and continuity. I create purposeful, accessible visuals and experiences to connect people and ideas.

My Creative Journey
Growing up, I always had a creative side—hence, a career in design was a natural path. During my undergrad years, I majored in digital design and animation. I started my creative career as a 3D character motion animator shortly after graduation. I think I might still have my demo reel in an analog format!

After that experience, I relocated to a different city and explored various creative and technical disciplines which included being a graphic designer, digital designer, front-end developer, and an art director. I built and created websites with the intent of being "user-friendly"—a precursor to user experience design, at the time when it wasn't a thing yet.
Although my work experience included user experience design, I found myself desiring a thorough foundation in user experience and product design. My curiosity led me to enroll in an immersive user experience design program. I was able to sharpen the skills I already had and learn new methodologies on a comprehensive user experience design process.

"Good design is not about what medium you're working in, it's about thinking hard about what you want to do and what you have to work with before you start."
At present, I work with a talented team tackling challenges in the healthcare branding space as a UX/UI design lead. I have spent over a decade designing for agencies, start-ups, non-profits, and learning and adapting to shifting technology and processes. With my user-centered approach, design sensibilities, and technical knowledge, I offer a unique perspective than what could be achieved by one discipline alone.

When I'm not working, I spend my time catering to mi familia
—
in the name of the father, son, and the holy moly spouse.