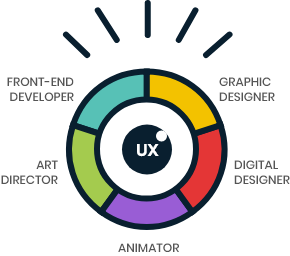 I design (and sometimes code) elegant and engaging user interfaces that deliver on brand.

Growing up, I always had a creative side—hence, a career path in design was a clear choice. During college, I majored in digital design and animation. After my internship as an animator, I was offered a job as a 3D character motion animator upon graduation. I think I might still have my demo reel in an analog format!

After that experience, I located to a different city and explored various creative and technical disciplines which included being a graphic designer, digital designer, front-end developer, and an art director. I built and created websites with the intent of being "user-friendly"—a precursor to user experience design, at the time when it wasn't a thing yet.
Although my work experience included user experience design, I found myself desiring a thorough foundation in user experience and product design. My curiosity led me to enroll in an immersive user experience program. I was able to sharpen skills I already had and learn new methodologies on the full-range user experience design process.

With my user-centered approach, design sensibilities, and technical knowledge, I offer a unique perspective than what could be achieved by one discipline alone. Currently, I am looking for
design opportunities in the greater New York City area.