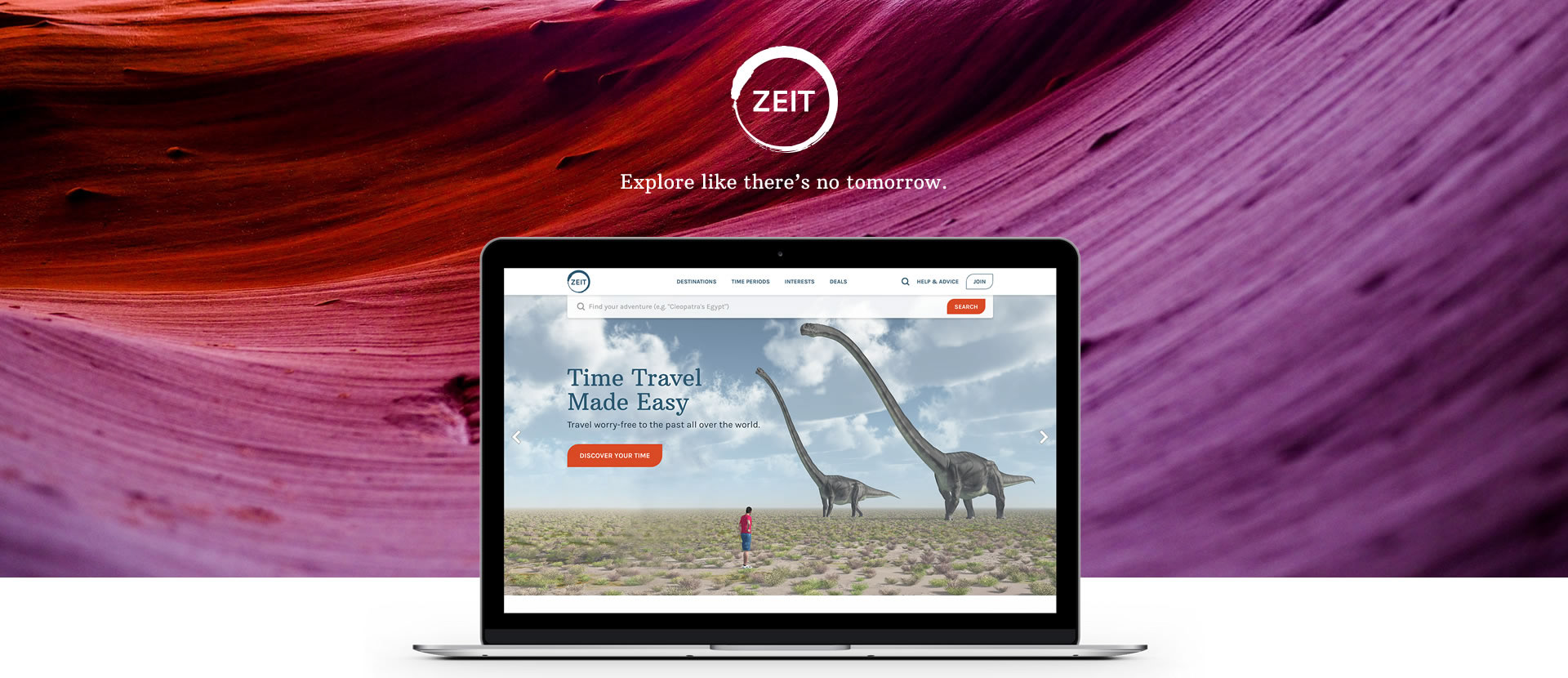 A thought experiment on designing uncharted territories

CHALLENGE


Explore Like There's No Tomorrow
ZEIT, a subsidiary of Virgin Group, will be the first to make time travel a reality to all and make traveling to the past commercially available and safe. My role was to

design a historical yet modern logo and a responsive e-commerce website that is easy to use which allows customers to browse through different trip categories and details, filtering via interests and classifications.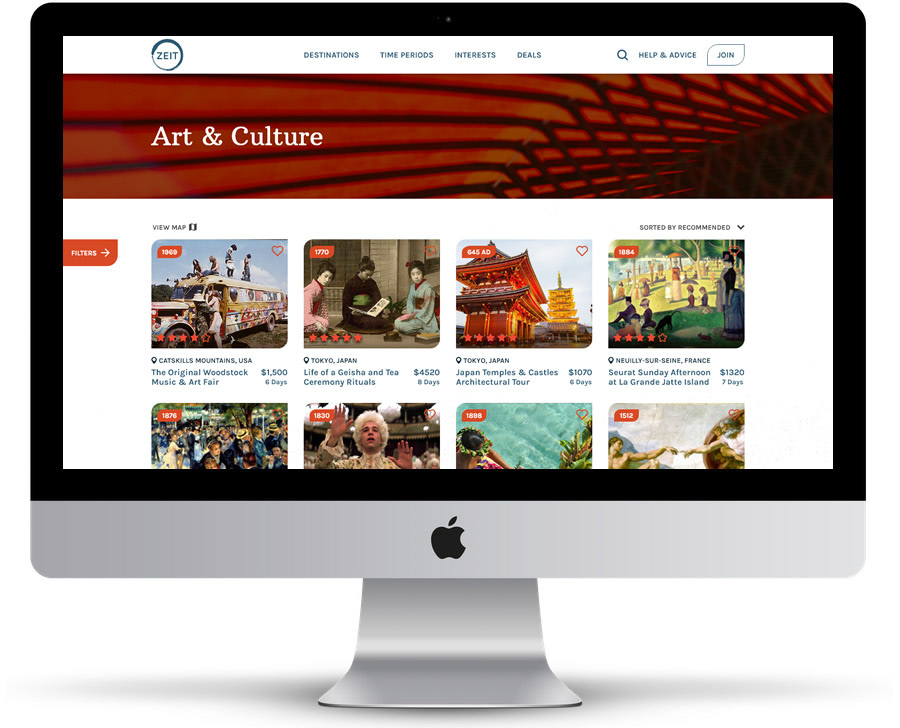 What would make a compelling experience to motivate people to book their online travels? 
How do I present content on how services work in order for users to understand and trust the company?
How do I take the unknown for a business that doesn't exist, on top of one that is like no other?
I have entered uncharted territories with time travel to the past. Users have certain expectations using travel sites in the present but outside of that the rules are unwritten.
These are some
challenges
I confronted and thus I began with market research and a competitive audit garnering insights and best practices from all-inclusive tour packages.  I talked to users who often book their travels online to learn about their motivations, habits, delights and frustrations.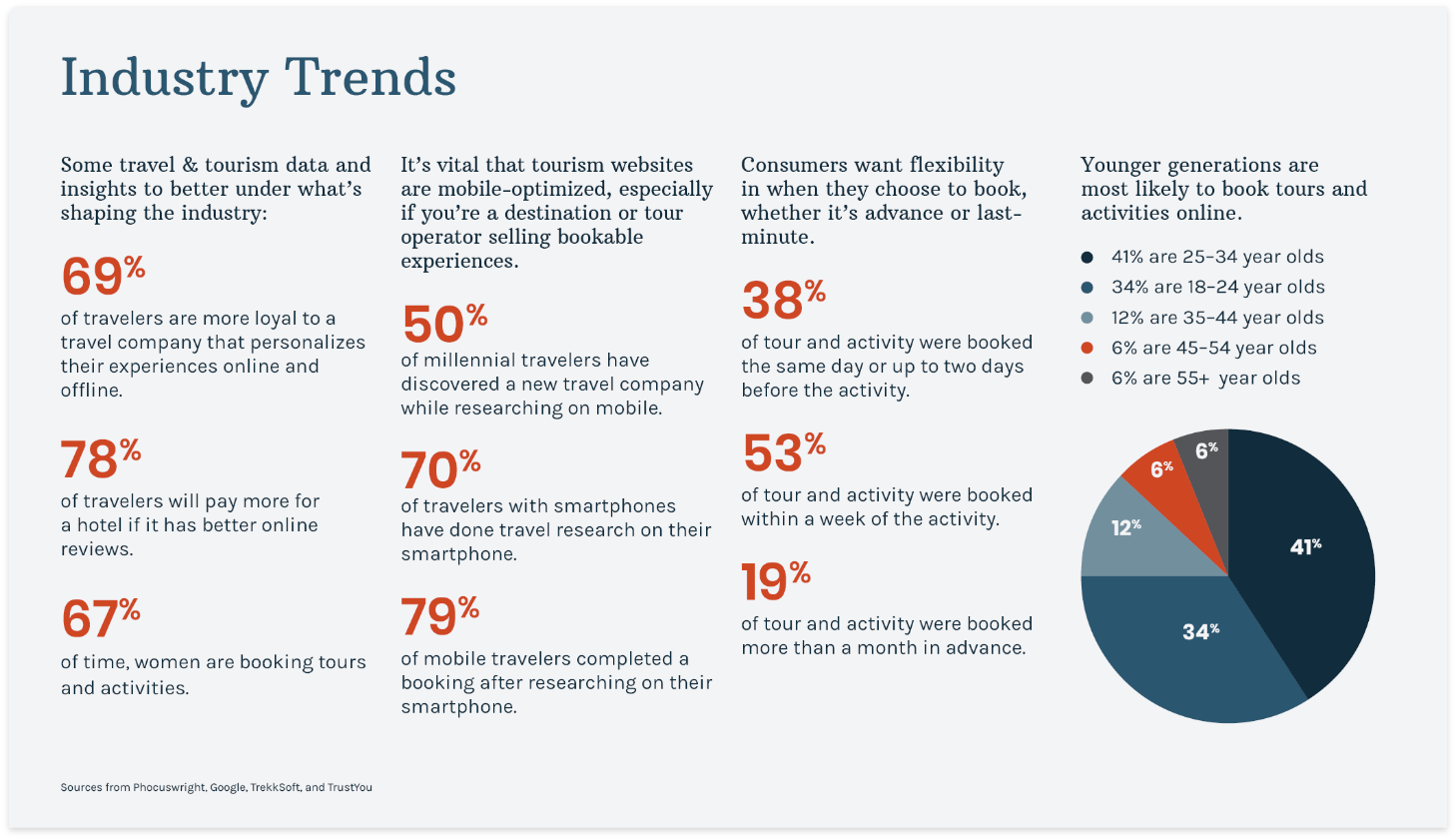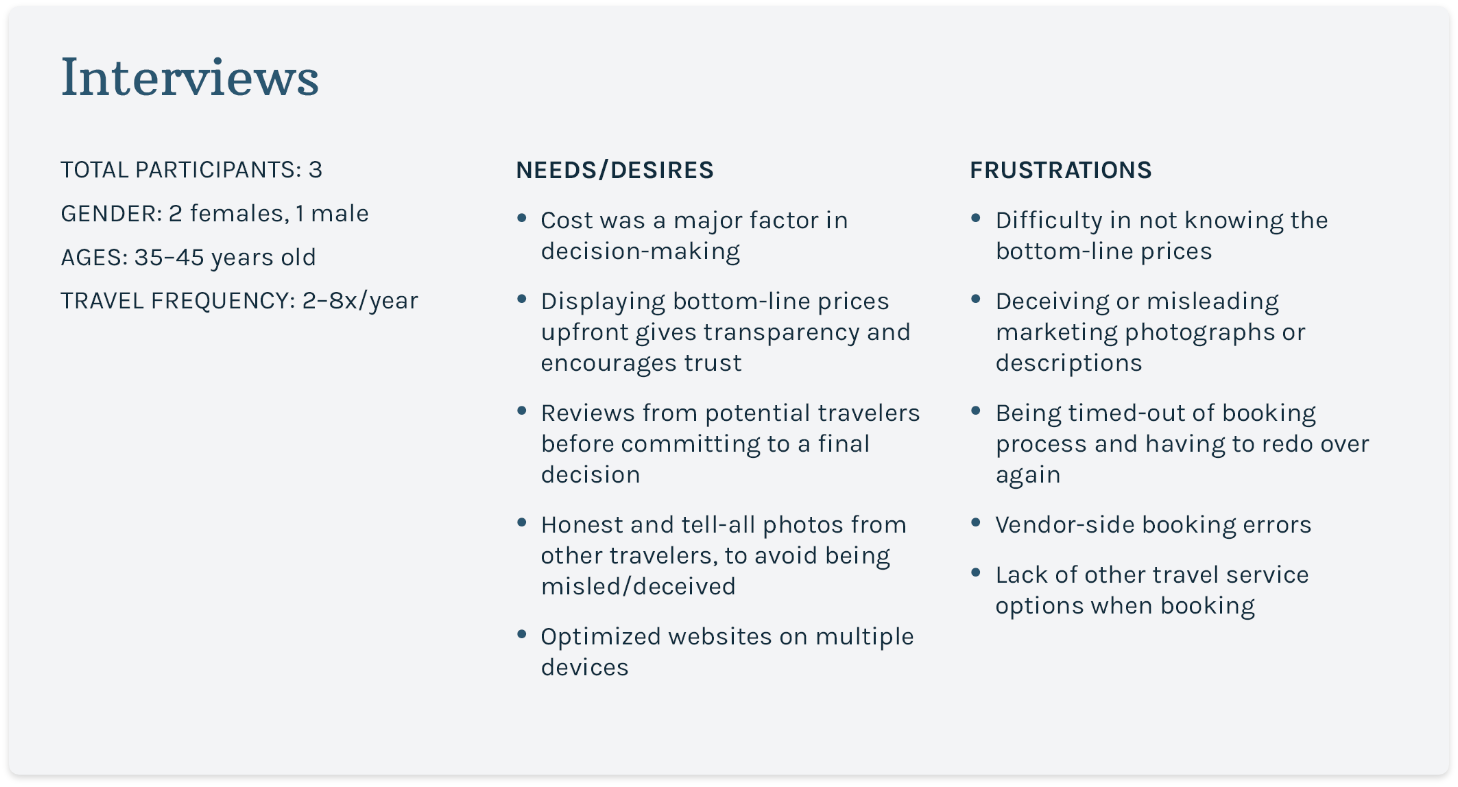 Understanding the User

I looked to my research findings and patterns to create an empathy map, persona, and storyboard to explore the user's experience and help define goals. This would help lead to conceptualize experiences that resonate with the target audience.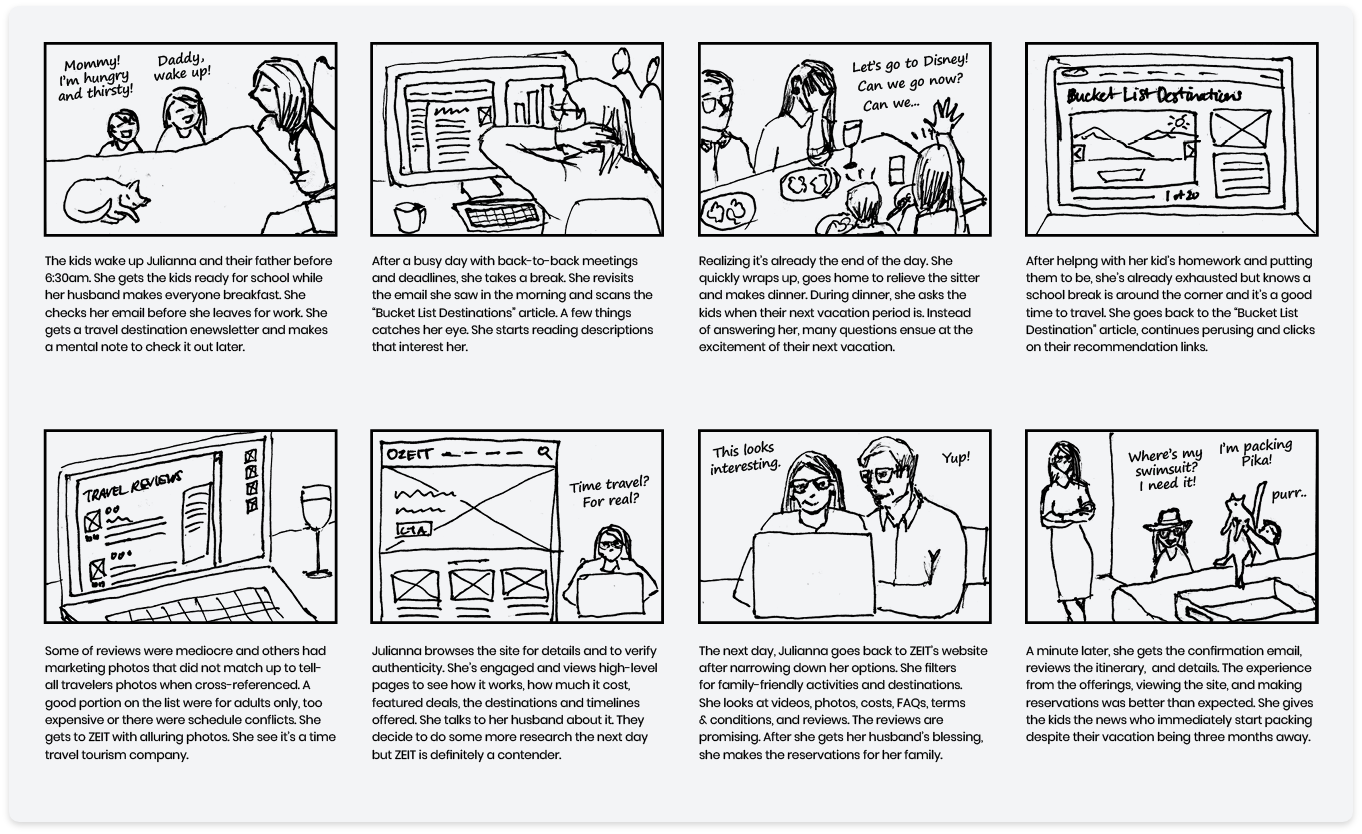 Envisioning the Structure
I envisioned several ways of organizing the structure of site. I knew I wanted intuitive classification and it all came down to how I wanted to present and categorize the content based on the number of travel packages. 
Designing the Interaction
Flows:
 This was my first step towards creating a prototype and consider how the user will navigate through the website to accomplish a task. This helped me think about how to optimize a user's steps with the path of least resistance, what happens before/after they visit a particular page, and possible alternative states.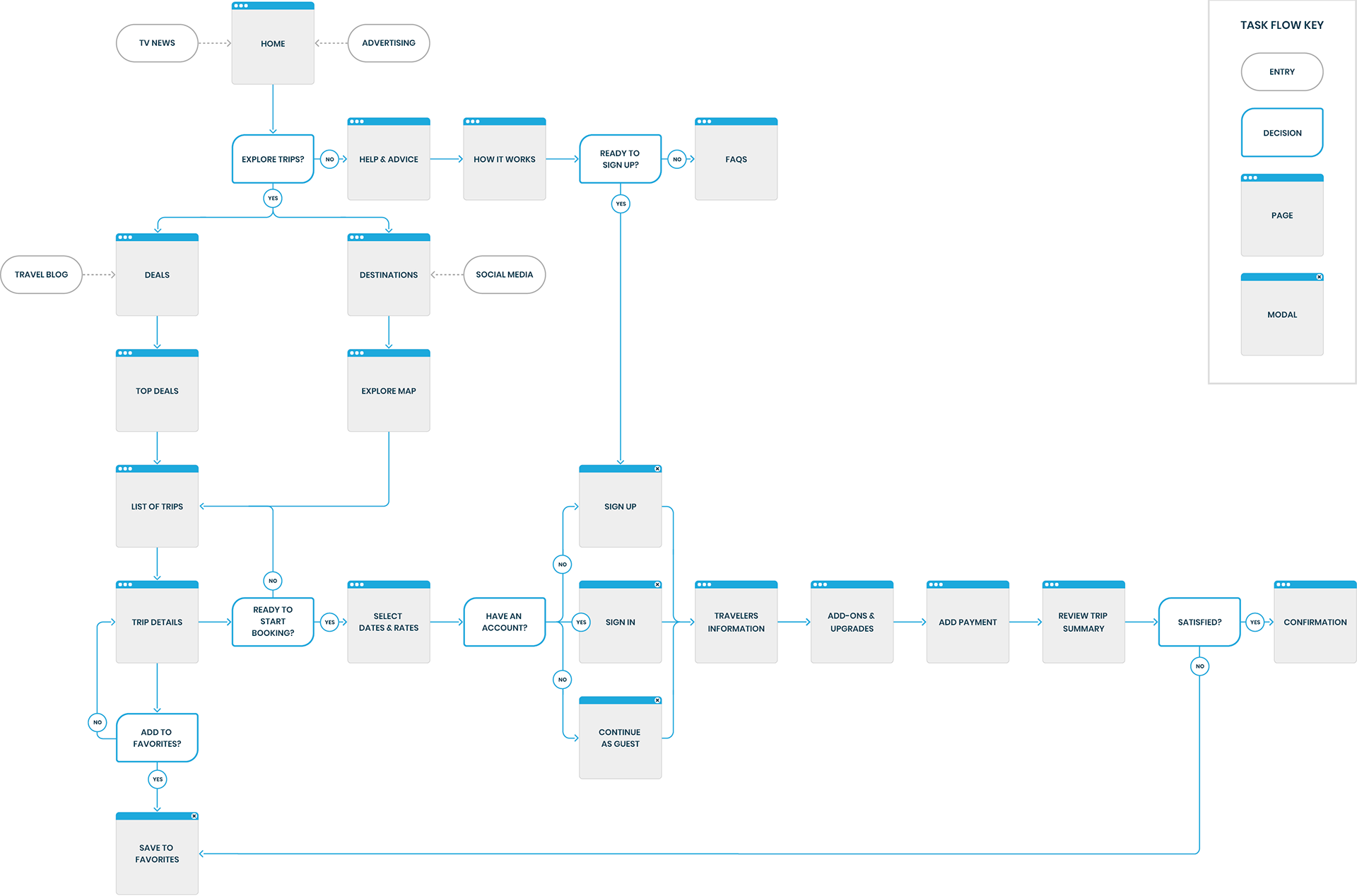 Wireframes:
I quickly fleshed out main content areas, interface elements and navigation system. Visualizing the structure helped me figure out the functionality of certain components. Prior to laying the content on the page, I set up Bootstrap's 12-column grid structure—my choice of framework which I find robust and diverse.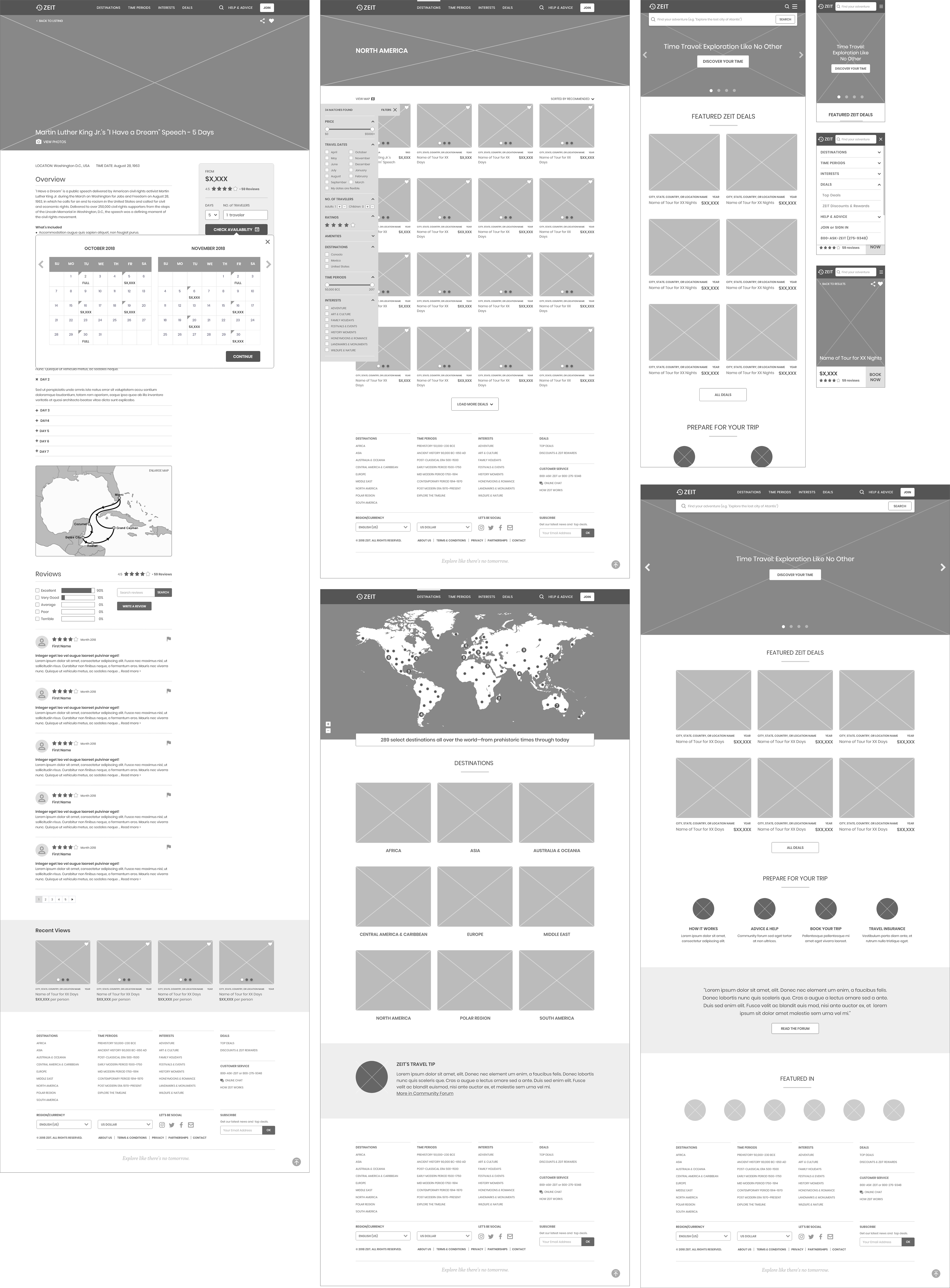 My goal was to create a historical yet modern logo, communicate as many brand attributes and focus on a conceptual design. I wanted the logo to be scalable—allows for growth, easy to work with, visible when scaled down and able to hold its own with just one color. And so the snake-like "
ouroboros
" logo emerged. This concept was born from the
restore symbol
because it reminded me of an ouroboros and isn't the past, present and future part of an infinite cycle?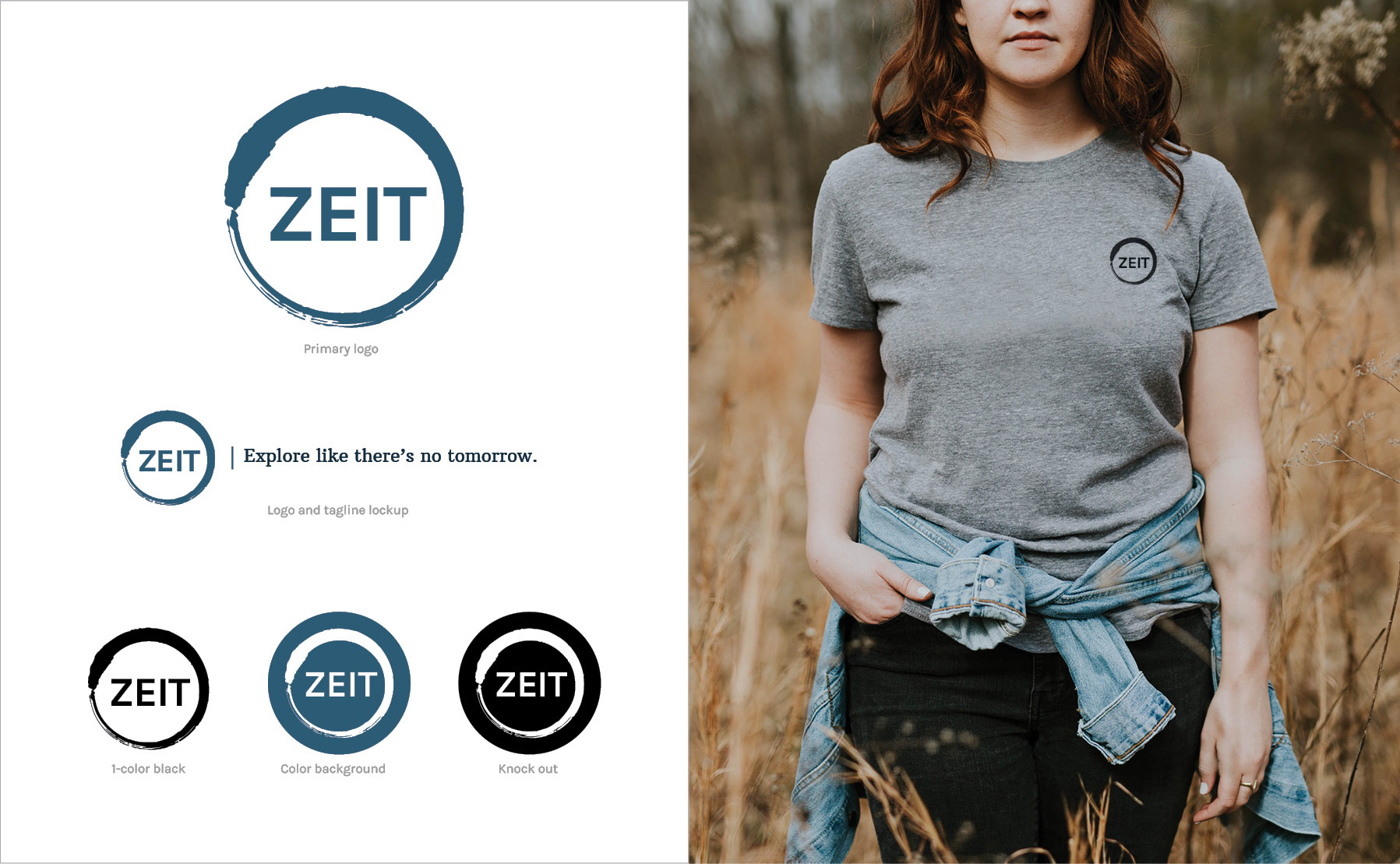 A Dash of Fantastical & Nostalgia
One of the issues I encountered was trying to make it obvious to the user that this was a time travel tourism website and not a news or history website. It was important that they get it instantly at first glance. I wanted to add a dash of fantastical to make it convincing and inviting because time travel is a fantasy and associated with what we've been exposed to in the media. Imagery selected were ones I felt were iconic, engaging and more readily recognizable of the past. The color palette and design elements are meant to reinforce feelings of nostalgia.


After giving users the task of booking a package, I was able to summarize the results, make any critical changes, and tweak the design. Technically, it went well and they were able to complete the task. Conceptually, there were lots of questions about the reality of the experience which helped me think how I would design it differently given the time.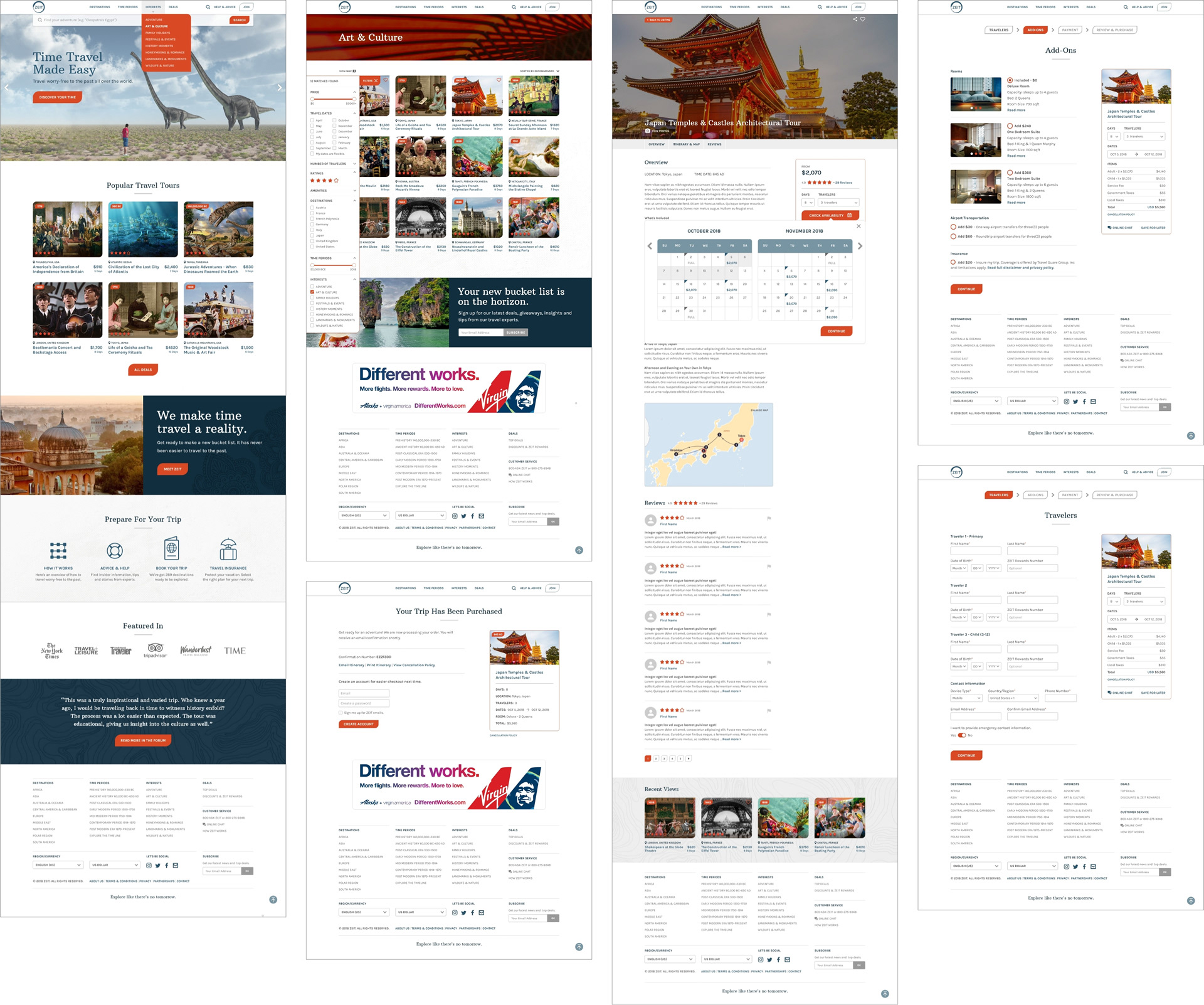 Designing for the unknown was going to be a challenge but a welcomed challenge it was, knowing I would end up with something I could proudly call my own. It didn't help matters that sometimes I felt as if I were working in a bubble and welcomed the external input to make it work. My biggest hurdle was trying to create a site that was believable and credible—convincing users to put aside their preconceptions about time travel in what they've been exposed to in the media and take a leap of faith that anything is possible.